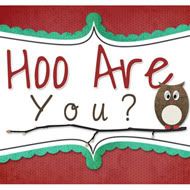 Is all of your christmas shopping done?
Pretty much. We always do a lot of hand made stuff, and we still have to make some of those gifts but everything has been purchased for them. I still have a couple things to pick up for Miss Banana.
Do you decorate for christmas? If so, when?
YES!! Christmas is my favorite holiday to decorate for. Every year, we add something new to our outside collection. This year it was four small lighted trees. I stick with my childhood tradition for putting things out: the weekend after Thanksgiving. We NEVER put things out before Thanksgiving.
Our tree this year
Do you bake during the holiday season?
I do. It's a new thing for me, I've only been doing it the last few years. I really enjoy and typically give gifts to Hannah's teachers, the mail man, trash collectors and more of homemade goodies.
Baking with Hannah
What are your favorite smells this time of year?
The sweet smell of goodies baking. I'm a big food scent person. I love the smell of vanilla, and sugar cookies baking.
What are your favorite things to do during the holiday season?
Decorate. And I really like trying to find gifts that the people I love, will love. I've fallen in love with handmade and homemade gifts. And I really enjoy putting these gifts together and imagining how the person I give it to will feel about my gifts. I love "playing" with Hannah. Every year, she gets a little more into the holiday season.